Remember the days we used to take fashion inspiration from Monica and Rachel?
Rachel freed the nipple and we all threw our bras in the bin. 
Monica wore bootcut jeans and we all queued outside Levi's.
And hairdressers everywhere were inundated with requests for the "Rachel". 
Before social media consumed us, we had to look a little further for fashion and style inspiration. Red carpet looks dictated the latest trends, and magazines told us who was lookin' hot and not. 
In the early 2000s, blogs...
---
I'm so excited to be sharing my third By SC drop with you, and to talk through some of my favorite pieces (but let's face it, they're all awesome). 
---
The strength of HYBRID inspired these designs.

Guts, courage, wild instinct, and a lot of attitude!" -Yuri Reis

Yuri grew up sketching Dragon Ball Z characters.

The HYBRID crew spend their days trying to look and perform like Goku and Gohan.

And you're about to see how he went super saiyan on these designs.

Sometimes in life you need to roll with the punches.

Yuri used this mantra as the inspiration for one of his designs after seeing how Stefi & our very own bare knuckle beast Brutal Bostwick handle their business.

They get in the squared circle every week with someone who is...
---
What's up ladies. 
My SC Collection line launched recently, and I want to give you the lowdown on my favorite looks, ways to style and how to accessorize my pieces to keep you lookin' bomb in the gym and out. 
The aim of my collection is to empower women to wear whatever TF they want, and look badass doing it. 
I centred this collection around red tie-dye print. This is such a versatile pattern
- try all black or white to make the tie-dye pop, or go for a...
---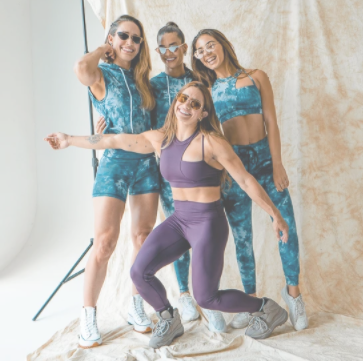 This fashion brand encompasses everything I'm about, and everything I want to empower others to be. 
It's something I've been passionate about for a long time, and I'm proud I've finally taken the leap. 
---